NEW YORK, NY – The Chordoma Foundation (CF) and The Mark Foundation for Cancer Research (MFCR) announced today a two-year, $1.4M partnership with a team of researchers at three institutions to develop new treatments for chordoma, a rare and difficult-to-treat bone cancer. The researchers will focus on creating the first drugs to inhibit a protein known as brachyury.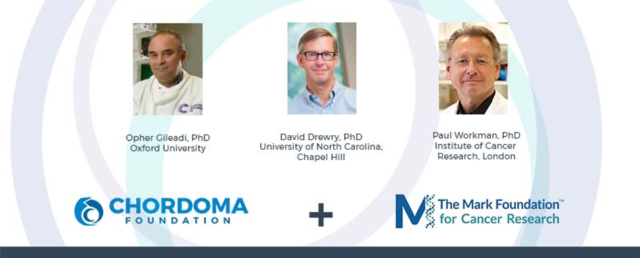 Believed to be the Achilles' heel of chordoma, brachyury is also a driver of metastasis and resistance to therapy in many other cancers. To date, because of its physical characteristics, brachyury has been a challenging drug target. Over the course of the next two years, the team expects to produce several chemical compounds that bind directly to brachyury with properties necessary to advance to the next stages of drug discovery.
"If successful, this project will create a pathway to bring the first brachyury drugs into clinical trials within the next four to five years," said Josh Sommer, Co-Founder and Executive Director of the Chordoma Foundation. "In the meantime, it will also enable research that could expand the understanding of brachyury's role in various diseases and its utility as a drug target beyond chordoma."
"The potential utility beyond chordoma is particularly exciting," added Michele Cleary, PhD, CEO of The Mark Foundation for Cancer Research. "We launched this partnership because of the high potential to benefit patients through research that would be unlikely to get funding from other sources. This work will not only greatly benefit chordoma patients but will also set an important precedent for how new cancer therapies are developed for the targets that are the most difficult to drug."
CF and MFCR previously partnered to support a successful pilot project involving several of the researchers funded in this expanded endeavor. The new project will be led by David Drewry, PhD, a medicinal chemist and faculty member at the UNC Eshelman School of Pharmacy, in collaboration with Opher Gileadi, PhD, faculty member at the University of Oxford specializing in protein biochemistry, and Paul Workman, PhD, Chief Executive and President of the Institute of Cancer Research in London and an experienced drug discoverer and developer.
Building on recent breakthroughs
This investment follows the completion of a one-year, $150,000 pilot project during which the Gileadi and Drewry labs, along with Charles Lin, PhD, at Baylor College of Medicine, succeeded in identifying a number of chemical fragments capable of binding to brachyury.
This success is significant because, historically, the whole class of proteins to which brachyury belongs, known as "transcription factors," has been considered "undruggable" for lack of obvious pockets to which a drug could bind. But by looking at how thousands of chemical fragments interact with the brachyury protein under the gaze of one of the world's most powerful X-ray machines, the team was able to identify eight spots where small molecules could at least get a toehold – each representing a possible point of attack against which a drug could be developed. With these brachyury-binding molecules as starting points, the team will attempt to create larger, more potent compounds with the properties needed to eventually create an effective drug.
A team up to the challenge
Developing drugs targeting transcription factors remains largely uncharted territory and a high-risk endeavor by any measure. The partnership, however, will leverage the strength of more than a dozen chemists and biologists working across multiple labs in industry and academia, allowing the researchers to move significantly faster than would typically be possible in a single academic laboratory. Attacking difficult targets is not new to this team. Prior to joining academia, lead investigator Drewry spent 25 years in industry, where he led teams of chemists developing drugs against a variety of novel targets. Workman is widely known as one of the world's most prolific drug hunters, having overseen teams both in industry and academia that cumulatively brought more than a dozen new cancer drugs into clinical trials. And Gileadi has made a career of tackling understudied "orphan" proteins, including being the first to visualize the structure of human brachyury.
Welcoming others to the party
While this project will match the scale and efficiency of an industry-led early drug discovery campaign, it will differ in one key way: by following the open-source playbook of the Structural Genomics Consortium (SGC) – a public-private drug discovery partnership with which Drewry and Gileadi are affiliated.
Rather than the conventional approach of filing patents on the compounds created and keeping data and chemical structures confidential, this project will be carried out in the open for other scientists to observe, contribute to, and, hopefully, build upon. There will be no secrets. No patents will be filed. And the chemical structures and associated data will be deposited into public repositories in nearly real time.
Most importantly, resulting compounds with therapeutic potential will not be licensed to just one company, as would typically be the case for patent-protected molecules. Instead, they will be available for anyone to further optimize into drug candidates suitable for human trials. In this way, the riskiest part of the drug discovery pathway be done collaboratively, while leaving the door open for multiple independent parties to pursue the later stages of therapeutic development.
A bigger impact
Notably, in the course of creating compounds targeting brachyury, this project will also yield a set of open-source data and research tools that will bolster other brachyury drug discovery projects, current and future, increasing the overall likelihood of drugging this previously undruggable protein. If successful, the hope is that this endeavor will set a precedent that will help to inform the discovery of drugs against many other difficult cancer targets.