Expanding Therapeutic Options for Lung Cancer Patients
The Mark Foundation for Cancer Research funds research in memory of personalized medicine pioneer Dr. Waun Ki Hong
The Mark Foundation has awarded a three-year $6 million grant to support a new phase of discovery for a team of investigators developing, optimizing, and integrating targeted therapies and immunotherapies to improve outcomes for patients with the most common and hardest to treat lung cancers. The team originally launched its collaborative effort in 2015 as a Stand Up to Cancer (SU2C)/American Cancer Society (ACS) dream team.  Principal investigators Jedd Wolchok, MD, PhD of Memorial Sloan Kettering Cancer Center, Alice Shaw, MD, PhD of Massachusetts General Hospital and Pasi Jänne, MD, PhD of Dana-Farber Cancer Institute will lead the team in new research that builds upon the substantial success the team has already achieved.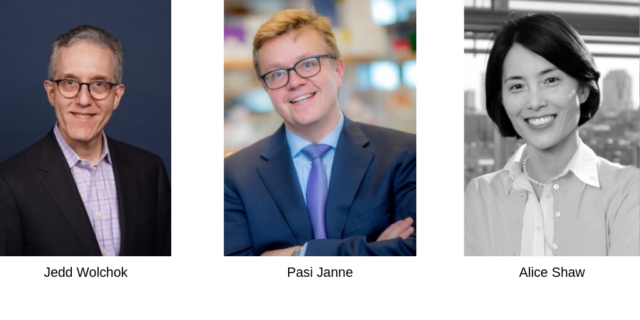 A deeper understanding of KRAS mutations and the drugs that target these tumor drivers
A major aim of the project will be to achieve a deeper understanding of the biology of a new class of drugs that inhibit the activity of KRAS, a mutant protein responsible for tumor formation in roughly 30 percent of lung cancers. By uncovering the mechanisms by which these drugs act and their effects in tumors with other genetic alterations in addition to those in KRAS, these pre-clinical studies will help physicians determine how to best utilize these therapies independently and in combination with other agents for maximal patient benefit. The team will also explore other biological pathways regulated by mutant KRAS as well as cellular processes that allow tumors to resist KRAS-targeted drugs with the ultimate goal of designing optimal combination therapies to circumvent tumor resistance and recurrence.
Data analytics to gauge and improve patient response to immunotherapies
Another major aim of the project will be the collection and comprehensive analysis of samples from lung cancer patients treated with immunotherapies at the multiple institutions involved in this grant. With funding from The Mark Foundation, the team will expand its collection of patient genomic and immune-profile information to include samples from patients before and during treatment, as well as from recipients of immunotherapy combinations, with the goals of determining the molecular changes caused by treatment and identifying changes tumors develop that render treatments ineffective in some patients. The team will be joined by Mark Foundation grantee Ben Greenbaum, PhD and Marta Lusksza, PhD from Mt. Sinai Hospital's Icahn School of Medicine, who will create new analytical platforms to maximally integrate the data and probe how tumors evolve genetically in ways that can lead to better or worse patient responses to treatment.
Additional researchers
The larger team comprises other world-renowned cancer researchers, including: Gregory Riely, MD, PhD, Charles Rudin, MD, PhD, Taha Merghoub, PhD, Matthew Hellmann, MD, and Neal Rosen, MD, PhD of Memorial Sloan Kettering Cancer Center; Kevan Shokat, PhD of University of California, San Francisco; Cyril Benes, PhD, Aaron Hata, MD, PhD, and Justin Gainor, MD of Massachusetts General Hospital; Kwok-Kin Wong, MD, PhD, of New York University Langone Medical Center; David Barbie, MD of Dana-Farber Cancer Institute; John Heymach, MD, PhD and Ferdinandos Skoulidis, MD, PhD, of MD Anderson Cancer Center; Nir Hacohen, PhD, of Harvard Medical School; Gad Getz, PhD and Arvind Ravi, MD, PhD of the Broad Institute; Drew Pardoll, MD, PhD of Johns Hopkins School of Medicine; and Roy Herbst, MD, PhD and Kurt Schalper, MD, PhD of Yale School of Medicine
About Dr. Waun Ki Hong
Dr. Waun Ki Hong was a renowned medical oncologist and physician-scientist who passed away on January 2, 2019. Among his numerous contributions to cancer research and treatment (particularly in personalized medicine), Dr. Hong helped change the standard of care for head and neck cancer. He led clinical trials which showed that chemotherapy and radiotherapy was an effective alternative to laryngectomy for cancer of the larynx. That discovery dramatically improved the quality of life for patients with this disease and helped lay a foundation for organ preservation in numerous cancer types.