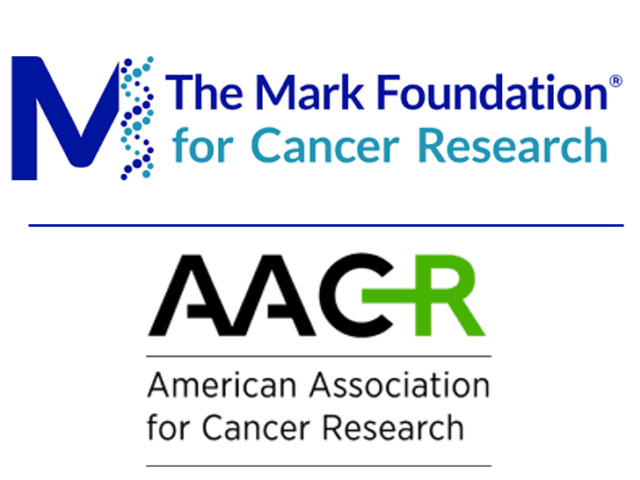 PHILADELPHIA — The American Association for Cancer Research (AACR) and The Mark Foundation for Cancer Research today announced five grants to support innovative research focused on understanding the influence of the biology of the patient on the genesis, development, treatment, and survivorship of cancer.
"We are very proud to announce the recipients of the inaugural AACR-The Mark Foundation for Cancer Research "Science of the Patient" Grants," said Margaret Foti, PhD, MD (hc). "It is a great honor to work with The Mark Foundation for Cancer Research and to offer these prestigious grants in support of innovative and discovery-driven science. Each of the five unique projects, selected by a scientific review committee comprised of experts in the field, will provide important information with potential wide-ranging implications for cancer treatment and quality of life. We thank The Mark Foundation for Cancer Research for its partnership and congratulate the lead investigators and their teams."
Each AACR-The Mark Foundation for Cancer Research "Science of the Patient" (SOP) Grant will provide $750,000 over three years to support projects that explore novel concepts with the potential to have transformative impacts on future clinical practice.
"We are excited to fund these projects because they open up avenues of cancer research that are not focused solely on tumor biology," said Michele Cleary, PhD, CEO of The Mark Foundation for Cancer Research. "Instead, these researchers are taking more holistic approaches in probing how patient biology and physiology play substantial roles in the course of disease. The insights gained from these efforts will lead to better ways not only to attack tumors, but also to mitigate some of the harmful effects cancer has on a patient's well-being."
The five grants are:
"Impact of liver biology on cancer immunity"
Gregory L. Beatty, MD, PhD, University of Pennsylvania, will study how the liver affects cancer immunotherapy efficacy. The goals of his project are to define determinants of the liver response to human cancer and to interrogate mechanisms by which the liver coordinates immune dysfunction. In doing so, Beatty aims to identify novel therapeutic targets and new treatments for patients with cancer.
"I am so thrilled to receive this AACR-The Mark Foundation for Cancer Research "Science of the Patient" Grant, which will allow my research team and me to conduct studies on the connection between the liver, cancer, and immunity, and follow our vision of broadening the efficacy of immunotherapy," said Beatty.
"Targeting insulin to improve endometrial cancer"
Marcus D. Goncalves, MD, PhD, Weill Cornell Medicine, will use mouse models and data from human clinical trials to test if a very low carbohydrate diet reduces tumor insulin signaling, increases markers of cell death, and enhances the efficacy of PI3K inhibitors in endometrial cancer.
"Host factors are often overlooked in clinical trials and basic research," said Goncalves. "This unique grant provides critical support for us to highlight the role of diet and insulin in endometrial cancer progression."
"Autonomic dysfunction in cancer cachexia"
Daniel L. Marks, MD, PhD, Oregon Health & Science University, will investigate pathways originating in the brain that lead to cachexia, a debilitating condition involving weight loss, muscle wasting, adipose tissue reprogramming, and anorexia that is found in approximately 80 percent of patients with pancreatic ductal adenocarcinoma (PDAC). Better understanding these pathways may potentially provide novel therapeutic options for cachexia, including drugs that are already used in clinical practice or advanced clinical trials. These same pathways are implicated in enhanced risk of tumor growth and metastasis, which suggests that blocking these responses may also provide synergistic benefit with tumor-directed therapeutics.
"I am grateful to the AACR and The Mark Foundation for Cancer Research for the generous support offered by this award," said Marks. "We believe that the work supported by this grant will improve the lives of patients with cancer and point the way to new treatments for cachexia in cancer patients."
"Biological mechanism and risk factor of head and neck cancer in Blacks"
Fatemeh Momen-Heravi, PhD, Herbert Irving Comprehensive Cancer Center at Columbia University, aims to characterize the molecular features of head and neck squamous cell carcinoma (HNSCC) and identify transcriptomic changes associated with HNSCC in patients with African ancestry. Pathway analysis and integration of omics data will be used to uncover tumor vulnerabilities in Black patients for therapeutic intervention with the ultimate goal of developing personalized therapies and reducing health disparities.
"This grant supports the important mission of reducing health disparities in head and neck cancer," said Momen-Heravi. "Our research will transform the lives of many minority patients by understanding their specific risk factors and developing new personalized treatment."
"Liver PAH defect provokes immune resistance"
Liuqing Yang, PhD, The University of Texas M.D. Anderson Cancer Center, will focus on the molecular mechanism of immunotherapy-associated liver impairment and its effects on a patient's metabolic microenvironment and acquired resistance to immunotherapy treatments. Findings may influence current clinical management and pave the way for treatments targeting liver function to overcome acquired resistance.
"We are immensely thankful for the support provided by the AACR and The Mark Foundation," said Yang. "Our studies are aimed at improving clinical outcomes for a wide range of patients undergoing immunotherapeutic cancer treatments, and the discoveries made with the support of this grant will be critical to future considerations for immunotherapy."
This is the second time that the AACR and The Mark Foundation have worked together to support innovative cancer research. In 2018, The Mark Foundation sponsored an AACR-The Mark Foundation NextGen Grant for Transformative Cancer Research that supported the work of Birgit Knoechel, MD, PhD, a pediatric oncologist at the Dana-Farber Cancer Institute, who is exploring how treatment resistance develops and persists in response to targeted therapy in T-cell acute lymphoblastic leukemia (T-ALL), an aggressive type of hematologic malignancy.