The Mark Foundation for Cancer Research funds Jackson Laboratory scientists to take on immunotherapy's greatest challenges — improving response rates and decreasing debilitating side effects.
The Mark Foundation for Cancer Research announces a new $1 million grant to The Jackson Laboratory (JAX) to study the harmful side effects that sometimes occur in cancer patients treated with immunotherapy. The research will involve mice engineered with humanized immune systems to find specific gene variants that could explain why so many patients – as many as 10 percent – develop Type 1 diabetes while undergoing immunotherapy to treat cancer. The grant will also study and determine how to predict which patients may experience myocarditis, a rare but potentially deadly inflammation of the heart that immunotherapy can also trigger.
This new grant project, Identifying Genes Uniquely Contributing to ICI-induced Immune Related Adverse Events, led by Professor Dave Serreze, Ph.D., and Scientific Director and Professor Nadia Rosenthal, Ph.D., F.Med.Sci., builds upon a $2.5 million grant the Mark Foundation awarded to JAX in 2019 aimed at determining how genetics influence immunotherapy response rates.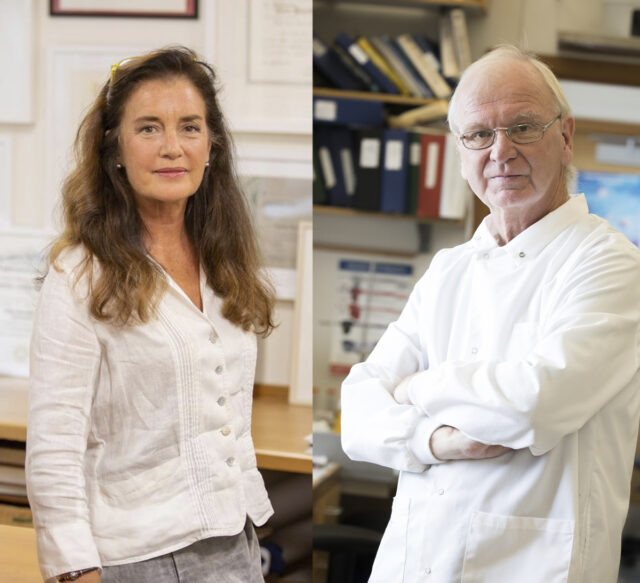 "JAX's track record in cancer research and its reputation as the world's leading research organization dedicated to developing optimal mouse models to help researchers in their quest to cure cancer were major factors in awarding both grants," said Mark Foundation CEO Michele Cleary.
"Results in animal studies don't always hold true when we take therapies into humans," stated Cleary. "Solving these issues with immunotherapy requires the type of complex and nuanced work in mouse engineering and genetics for which JAX is world-renowned."
"This project has the potential to greatly improve immunotherapy outcomes by predicting which patients might experience these side effects and altering cancer treatment plans for those who may be prone to them," said Rosenthal. "The Mark Foundation's commitment to supporting groundbreaking research will help develop more precision treatments for individual cancer patients."
The initial 2019 grant, awarded to JAX President and CEO Edison T. Liu, M.D., and Associate Professor Laura Reinholdt, Ph.D., focuses on understanding why only 20 to 40 percent of cancer patients respond well to immunotherapy. Liu and Reinholdt are using genetically diverse JAX mouse models to map the genetic differences found in the mice to specific genetic variants in humans. The goal of their work is to enable doctors to one day test and determine a given individual's likely response to immunotherapy to help guide the selection of a treatment regimen.
"Funding projects such as these aligns well with our goal to enable complex and ambitious science and to accelerate research that has the potential to be transformative," said Mark Foundation CSO Ryan Schoenfeld. "Understanding at a detailed level how genetics affect responses to immunotherapies, including adverse events, is a critical need for the field."
About The Mark Foundation
The Mark Foundation for Cancer Research actively partners with scientists to accelerate research that will transform the prevention, diagnosis, and treatment of cancer. The Mark Foundation fulfills its mission by supporting groundbreaking science carried out by individual investigators, multi-disciplinary teams, and inter-institutional collaborations in the United States and across the globe. Recognizing the obstacles that prevent scientific advances from improving patient outcomes, The Mark Foundation maintains a nimble, high-impact approach to funding basic and translational cancer research that bridges the gap between bench and bedside through grants and venture investments.
Since 2017, MFCR has awarded more than $123 million in grants to enable innovative basic, translational, and clinical cancer research, including early-stage drug discovery. MFCR also has a growing investment portfolio that includes drug discovery companies Accent Therapeutics (focused on RNA-modifying proteins implicated in cancer) and Verseau Therapeutics (developing macrophage-targeting immunotherapies) as well as liquid biopsy diagnostics companies C2i Genomics and GRAIL.
About The Jackson Laboratory
The Jackson Laboratory is an independent, nonprofit biomedical research institution with more than 2,400 employees. Headquartered in Bar Harbor, Maine, it has a National Cancer Institute-designated Cancer Center, a genomic medicine institute in Farmington, Conn., and facilities in Ellsworth and Augusta, Maine, in Sacramento, Calif., and in Beijing and Shanghai, China. Its mission is to discover precise genomic solutions for disease and empower the global biomedical community in the shared quest to improve human health.