The Mark Foundation is pleased to announce the recipients of this year's Momentum Fellowships. These awards support promising young investigators, enabling them to reach the next level in their careers. All Fellows are nominated by members of The Mark Foundation's Scientific Advisory Committee and are funded for the duration of one year.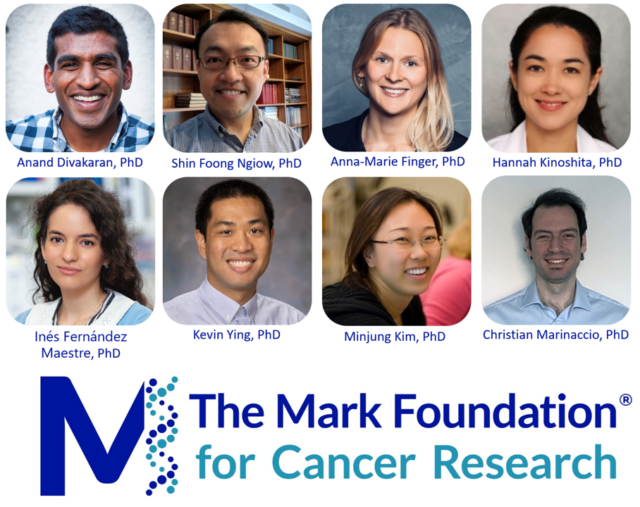 The recipients of 2022 Momentum Fellowships are:
Shin Foong Ngiow, PhD, The University of Pennsylvania

Dr. Ngiow is working to understand the cellular and molecular cooperativity of Lag3 and PD1 signaling in regulating the induction and maintenance of CD8 T cell exhaustion.

Kevin Ying, PhD, The Research Institute at Nationwide Children's Hospital

Dr. Ying is using whole exome sequencing to better understand the genomic changes that take place in recurrent neuroblastoma.

Christian Marinaccio, PhD, Dana-Farber Cancer Institute

Dr. Marinaccio is investigating fundamental differences between leukemogenic potential of adult and neonatal hematopoietic stem cells.

Anna-Marie Finger, PhD, University of California, San Francisco

Dr. Finger is generating next-generation organoids to uncover crosstalk between cellular and extracellular components of the tumor microenvironment (TME) that drive metastatic transformation.

Minjung Kim, PhD, The University of Maryland

Dr. Kim is researching the role of SIX1-GATA1-DACH1 protein-protein interactions across different classes of blood cancers.

Inés Fernández Maestre, PhD, Memorial Sloan Kettering Cancer Center

Dr. Fernández Maestre is working to define the role of inflammation as an agent of selective pressure on clonal hematopoiesis progression and potential malignant transformation and determine the extent of its specific contributions during aging.

Hannah Kinoshita, MD, Children's National Hospital

Dr. Kinoshita is evaluating the immunobiology of multi-antigen specific T-cell therapy infused to patients to reduce the two most common causes of morbidity and mortality following stem cell transplant—cancer relapse and infection.

Anand Divakaran, PhD, University of California, Berkeley

Dr. Divakaran is developing novel induced-proximity-based therapeutic modalities for targeted editing of the epigenome to silence the expression of common cancer-causing genes.