Studies will advance research on the role of bacteria in glioblastoma multiforme (GBM), the most common brain tumor.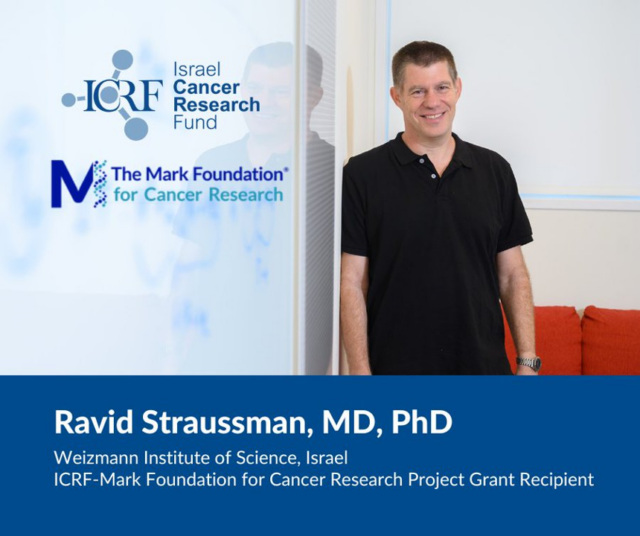 The Mark Foundation for Cancer Research and the Israel Cancer Research Fund (ICRF) have partnered on a new award, The ICRF–Mark Foundation for Cancer Research Project Grant, given to Ravid Straussman, MD, PhD, of the Weizmann Institute of Science in Israel. Dr. Straussman was awarded $198,000 over a three-year period to support his research on the role of bacteria in glioblastoma multiforme (GBM). GBM is the most common brain tumor, for which treatment options are very limited.
"The Mark Foundation is proud to expand our reach in supporting the most impactful cancer research worldwide," said Ryan Schoenfeld, PhD, CEO of The Mark Foundation. "We're pleased to collaborate with the ICRF to fund Dr. Straussman's critical GBM research at the Weizmann Institute in Israel."
With his team, Dr. Straussman studies the tumor microenvironment and the tumor-associated microbiome, with a special focus on how the non-cancerous components of the tumor microenvironment affect the response of cancer cells to cytotoxic, targeted, and immune-mediated therapies.
Dr. Straussman and his team previously demonstrated that bacteria are commonly found in GBM tumors. They have now collected a large number of human GBM tumor samples that will facilitate a deeper analysis of the identity and location of bacteria within those tumors. The lab's unique collection of cancerous and normal brain tissues will enable them to explore how bacteria affect responses to chemotherapy and radiotherapy, and the immune landscape within tumors. They hope that their findings will lead to new therapeutic options for patients.
ICRF looks to enhance its grants program through collaborations with like-minded organizations. "We are extremely grateful to The Mark Foundation for Cancer Research for recognizing the level of excellence of Israel's scientists. Our new partnership will help expand our reach in Israel in the hopes of finding cures and treatments for cancer," said Beryl Chernov, ICRF National Executive Director.
About The Mark Foundation for Cancer Research
The Mark Foundation for Cancer Research actively partners with scientists, research institutions, and philanthropic organizations around the world to accelerate research that will transform the prevention, diagnosis, and treatment of cancer. Since 2017, The Mark Foundation has awarded more than $180 million in grants to enable innovative basic, translational, and clinical cancer research, including drug discovery. In 2022, The Mark Foundation received an additional $500 million commitment to fund cutting-edge cancer research in its first decade. The Mark Foundation also has a robust and growing portfolio of investments in oncology companies developing novel therapeutics and diagnostics. Through its research and venture arms, The Mark Foundation supports projects throughout their life cycle to ensure their highest chance of success in impacting the lives of patients with breakthroughs in cancer care.
About Israel Cancer Research Fund
Israel Cancer Research Fund (ICRF) was established in 1975 by a group of scientists, physicians, and philanthropists in the United States and Canada, who sought to enable the world-class, life-saving work by Israel's cancer scientists. Today, ICRF is the largest voluntary charitable organization in North America whose sole mission is to support brilliant cancer research in Israel for the benefit of all humankind. We have provided more than $87 million in funding to support the most innovative cancer researchers from leading institutions throughout Israel.