Over 100 ASPIRE awards have been granted across 12 countries and 58 institutions since the program launched in 2018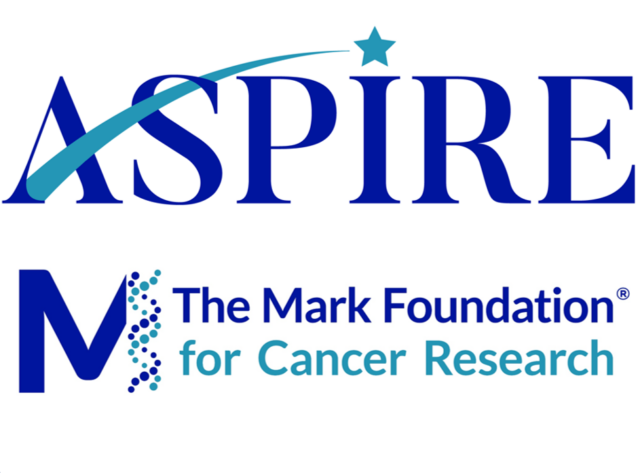 New York, NY, February 23, 2023 — The Mark Foundation for Cancer Research announced twelve outstanding research projects to receive its latest round of ASPIRE awards. Grantees from top academic institutions in Germany, Israel, Netherlands, Spain, and USA were awarded more than $4 million for projects that either aim to answer key feasibility and proof-of-concept questions in an accelerated time frame or seek to build on such demonstrated feasibility / proof-of-concept with a longer duration ASPIRE II Award. Ten ASPIRE awards and two ASPIRE II awards were granted.
"The Mark Foundation ASPIRE awards support innovative ideas worldwide that have the potential to solve high-impact problems in cancer research. The high-risk nature of these projects, often based on new ideas that have not generated extensive preliminary data, tends to place them outside the scope of other funding opportunities," noted Ryan Schoenfeld, PhD, Chief Executive Officer, The Mark Foundation. "These latest grants utilize innovative technologies to enable research aimed at solving critical challenges across multiple cancer types including breast cancer, lung cancer, melanoma, and prostate cancer."
"Launched in 2018, The Mark Foundation ASPIRE program has provided more than 100 grants totaling over $42 million across 12 countries and 58 institutions," added Raymond N. DuBois, MD, PhD, Executive Chairman, The Mark Foundation. "We are committed to increasing our global commitment to accelerate the pace of scientific discovery and the development of new cancer therapies and diagnostics."
The Mark Foundation's new class of ASPIRE awards is listed below. For more detailed information on each project, titles link to the corresponding project pages on The Mark Foundation website.
David Bilder, PhD, University of California, Berkeley
Lessons from ancient mechanisms of tumor-host interactions
Denes Hnisz, PhD, Max Planck Institute for Molecular Genetics
Targeting androgen receptor condensates in castration resistant prostate cancer
Jos Jonkers, PhD, Netherlands Cancer Institute
Somatic modelling of estrogen-receptor-positive breast cancer in rats
Nikhil Joshi, PhD, Yale University School of Medicine
Developing genetic models for studying cardinal features of human cancer
Angela Koehler, PhD, Massachusetts Institute of Technology
Chemical probe validation for ligases that govern MYC post-translational stability
Nir London, PhD, The Weizmann Institute of Science, Israel
Chemical repair of an oncogenic mutation in p53
Aashish Manglik, MD, PhD, Michelle Arkin, PhD and Boris Bastian, MD, PhD, University of California San Francisco
Exploiting protein structural dynamics for new uveal melanoma therapies
Cristina Mayor-Ruiz, PhD and Antoni Riera Escalé, PhD, Institute for Research in Biomedicine (IRB Barcelona), Spain, and Alejo Efeyan, PhD, Centro Nacional de Investigaciones Oncológicas (CNIO), Spain
Chemical hijacking of E3 ligases for the selective targeting of oncogenic mTOR signaling
Shari Pilon-Thomas, PhD, and Daniel Abate-Daga, PhD, Moffitt Cancer Center
Defining tumor infiltrating B cells and their role in the modulation of TIL immunotherapy
Tuomas Tammela, MD, PhD and Dana Pe'er, PhD, Memorial Sloan Kettering Cancer Center
Parallel molecular and functional dissection of cancer cell states in human solid tumors
ASPIRE II awards, follow-on awards of longer duration, were granted to:
Daniel Nomura, PhD, University of California, Berkeley
Developing next-generation therapies and therapeutic modalities for cancer using covalent chemoproteomic platforms
Rene Bernards, PhD, Netherlands Cancer Institute (NKI) and Anthony Letai, MD, PhD, Dana-Farber Cancer Institute
Requirements for senescence induction and vulnerabilities of the senescent state
About The Mark Foundation for Cancer Research
The Mark Foundation for Cancer Research actively partners with scientists, research institutions, and philanthropic organizations around the world to accelerate research that will transform the prevention, diagnosis, and treatment of cancer. Since 2017, The Mark Foundation has awarded more than $185 million in grants to enable innovative basic, translational, and clinical cancer research, including drug discovery. In 2022, The Mark Foundation received an additional $500 million commitment to fund cutting-edge cancer research in its first decade. The Mark Foundation also has a robust and growing portfolio of investments in oncology companies developing novel therapeutics and diagnostics. Through its research and venture arms, The Mark Foundation supports projects throughout their life cycle to ensure their highest chance of success in impacting the lives of patients with breakthroughs in cancer care. To learn more please visit www.TheMarkFoundation.org.
#  #  #
Media Contact:
Linda Heaney
lheaney@themarkfoundation.org