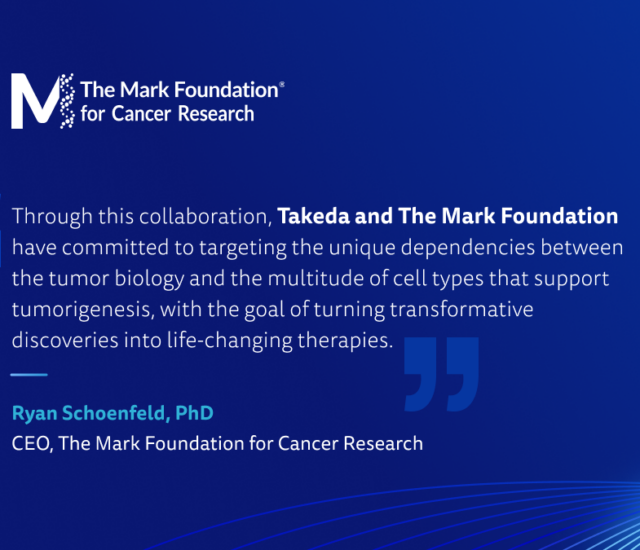 New academic research awards to be jointly selected and funded in the field of cancer cell–extrinsic tumor dependencies, potentially creating novel therapeutics.

Pioneering pharma/non-profit alliance allows pooling of both organizations' expertise and resources in this emerging research area and commercialization of the most promising discoveries, including the possible creation and funding of spin-out companies.
The Mark Foundation for Cancer Research today announced an alliance with Takeda to accelerate the discovery and development of novel treatments for cancer. The unique approach leverages The Mark Foundation's global network of leading academic scientists and robust project review and funding platform, as well as Takeda's extensive track record of developing life-saving cancer treatments. The alliance will spearhead an emerging area of research: advancing the understanding and development of treatments targeting ancillary cell types that collude with cancer cells in tumor formation and progression.
The Mark Foundation will receive financial support from Takeda to launch an exclusive workshop and co-fund external research projects. The scientific workshop will bring together hand-picked scientists from different disciplines to dream up novel approaches for suppressing the supportive environment that allows tumors to thrive. These scientists, and potentially others, will be invited to apply for academic research funding to initiate research on the exceptional approaches developed.
"The past two decades have demonstrated the power of using a precision medicine approach to target specific vulnerabilities within the cancer cell itself," noted Ryan Schoenfeld, CEO of The Mark Foundation. "Through this collaboration, Takeda and The Mark Foundation have committed to pushing the boundaries by targeting the unique dependencies between the tumor biology and the multitude of stromal and immune cell types that support tumorigenesis, with the goal of turning transformative discoveries into life-changing therapies for patients. Takeda is the ideal partner for our first alliance with a pharmaceutical company, with their deep scientific expertise and commitment to external innovation. When exciting discoveries arise from these research projects, we will have a partner on board to help dramatically accelerate these innovations to reach patients."
"Current therapies targeting the tumor, tumor microenvironment and the immune response are just the tip of the iceberg," said Kathy Seidl, head of Takeda's Oncology Drug Discovery Unit. "We are thrilled to work with The Mark Foundation and their network of top cancer researchers, some of whom are already on the road to validating novel targets in this emerging cross-section of cancer biology and the tumor microenvironment.  The Mark Foundation's expertise in attracting and reviewing cutting-edge proposals gives them a compass pointing toward the next big breakthroughs in cancer therapeutics. Our missions are shared: to advance innovative academic discoveries from the bench to patient impact."
Takeda and The Mark Foundation have established joint governance of the alliance that will allow for a hands-on approach to supporting projects and their commercialization, including the possible creation and funding of spin-out companies. Sacha Mann, Senior Investment Director and Partner at Takeda Ventures, Inc., Adnan Abu-Yousif, Senior Director and Head of Cold-to-Hot Biology in Takeda's Oncology Drug Discovery Unit, Becky Bish, Head of Discovery and Preclinical Research at The Mark Foundation, and Anna Turetsky, Principal, Venture Investments at The Mark Foundation serve on the alliance board.
About The Mark Foundation for Cancer Research
The Mark Foundation for Cancer Research, a charitable organization based in New York City, actively partners with scientists around the world to accelerate research that will transform the prevention, diagnosis, and treatment of cancer.  Since 2017, The Mark Foundation has awarded more than $200 million in grants to over 100 academic institutions across 13 countries, with research programs focusing on early career support, team science collaboration, new technology innovation, and therapeutics discovery.  Additionally, The Mark Foundation maintains a growing portfolio of investments in early-stage cancer diagnostics and therapeutics companies, including several that have transitioned from grantee projects into commercial development.  To learn more please visit www.TheMarkFoundation.org.
#   #   #
Contact:
Linda Heaney
lheaney@themarkfoundation.org