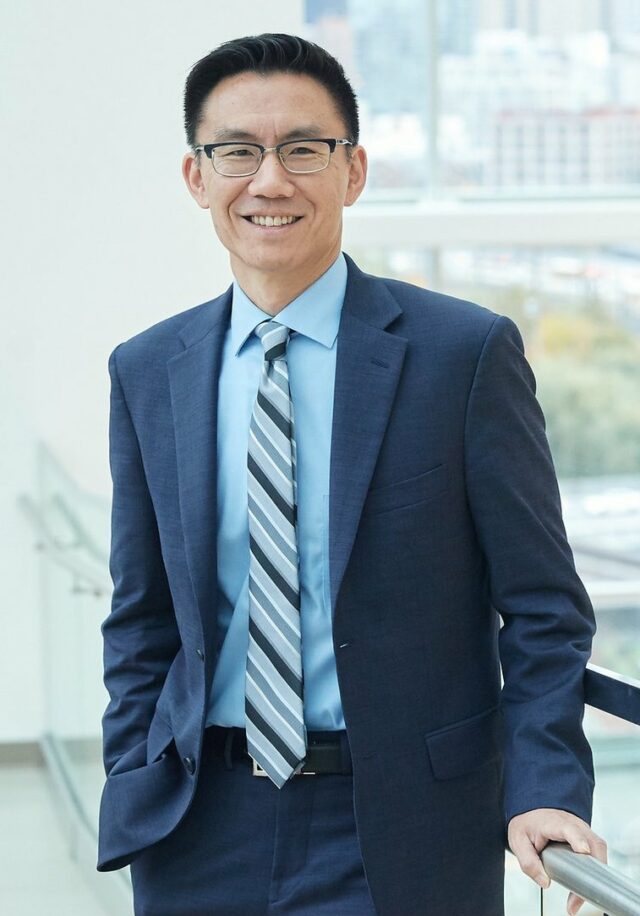 To achieve our goal of elevating cancer research and therapeutics to new heights, The Mark Foundation for Cancer Research supports collaboration among a variety of disciplines and areas of expertise. To that end, The Mark Foundation Centers have been established at leading cancer research institutions around the world to fund dynamic teams of investigators who are pooling their capabilities, knowledge, and energies, where data generated are shared to amplify discovery around a central idea.
One such Center is The Mark Foundation Center for Immunotherapy, Immune Signaling, and Radiation at the University of Pennsylvania, directed by Andy Minn, MD, PhD. This Center, which converges expertise in cancer immunology, immune signaling pathways, and radiation oncology, is poised to bring novel combination therapies to the clinic. "Immunotherapies are a game changer," says Minn. In particular, he says, the Center focuses on CAR T-cell therapy, interferon pathways, and radiation therapy.
The revolutionary chimeric antigen receptor (CAR) T-cell therapy, a type of immunotherapy pioneered by Carl June, a member of The Mark Foundation Center, is a way to get T cells to fight cancer by engineering them in the lab to attack specific cancer cells. The therapy was FDA-approved in 2017 following the successful treatment of a young pediatric leukemia patient named Emily Whitehead. While CAR T-cell therapy has generated successful results for patients with certain blood cancers, it is still being studied in solid tumors. The Mark Foundation Center's vision to advance the field of immunotherapy is underscored by efforts to engineer new CAR T-cells that will enhance immune signaling pathways in tumors.
In addition to CAR T-cell therapy, a patient's own immune system can be stimulated to fight cancer itself. In 1986, the first cancer immunotherapy, interferon alpha, was approved by the FDA. It was shown to boost the immune system and since then, interferons have become a therapeutic option for several types of cancer. Paradoxically, Minn's group has discovered an opposing mechanism of action – that interferon signaling can also be co-opted by cancer cells to their advantage against immunotherapies. "When research is at a potential inflection point, where you have some data but not consensus in the field, it can be particularly hard to push forward," he explains. "The Mark Foundation sees opportunities in exploratory research, and their confidence in people, especially at early stages of a project, differentiates them from traditional funding agencies, where you may need years to build a convincing argument."
As Director of The Mark Foundation Center, Minn ensures that an emphasis on collaboration permeates throughout the team. The key ingredient is having great trainees and research scientists who truly drive team science, "boots on the ground" as he terms it.
Minn is no stranger to collaboration. "I'll never squander an opportunity to explore," he says firmly, and recounts that his path has often been fortuitous because of this. As a college student he fell in love with immunology because of an inspiring teacher – a professor who was the director of the physician-scientist training program. When he told Andy about the opportunity it was late in the application process, so Andy applied to only one program. Fortunately, he was admitted, went on to obtain his PhD in immunology, and became a radiation oncologist by clinical training.
Some years later, as a practicing radiation oncologist, Andy met a colleague in the elevator who sparked thoughts around combining radiotherapy with immunotherapy, bringing Andy's love of immunology research back to the forefront.
Because of this brief chat and ensuing collaboration, a novel radiotherapy called FLASH radiation therapy (FLASH-RT) is now a focal point of the Center's research. FLASH-RT delivers ultra-high doses of radiation in a very short amount of time, typically less than a second, compared to conventional dose-rate radiotherapy treatments that normally take place over several weeks. For unknown reasons, dramatically concentrating the radiation with FLASH-RT effectively eradicates tumors yet results in less toxicity to healthy tissue. Researchers in the Center are exploring these unusual properties of FLASH-RT and how they might relate to immune signaling pathways.
"This is what collaboration is all about," says Minn, grinning. "People empowering you to get out of your comfort zone." He adds, "This insight through casual encounters and having the patience to find connections – this is where the really impactful discoveries and advancements come from."
The vision of The Mark Foundation Center for Immunotherapy, Immune Signaling, and Radiation involves science that spans multiple fields, converges fields that didn't previously have connections, and includes the breadth of bench to bedside. Research from the Center has already resulted in several high-impact collaborative publications and is providing a compelling preclinical portfolio to move forward with clinical trials. It has also spun out a startup company.
Support from The Mark Foundation has also helped secure a substantial Program Project Grant from the NIH. "There's definitely an increasing recognition of the importance of what we're studying," says Minn. "And that's critical, because now we're seeing more labs put forth their own efforts, and collectively we can progress much more rapidly."