Understanding how to predict, prevent, and treat metastasis is one of the greatest challenges in cancer research today. The Mark Foundation for Cancer Research had its second virtual symposium of 2021 on October 28th, where leading scientists in the field discussed their latest research addressing this important issue.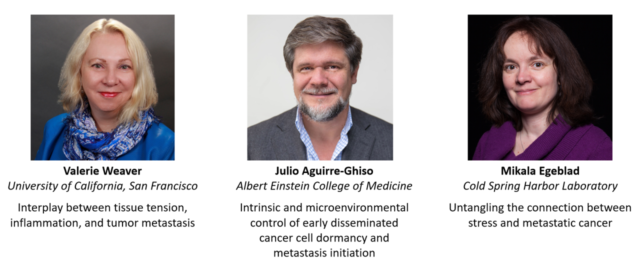 Valerie Weaver, PhD is a Professor in the Departments of Surgery, Bioengineering & Therapeutic Sciences and Radiation Oncology at University of California, San Francisco, and Director of the Center for Bioengineering and Tissue Regeneration in the Department of Surgery. Dr. Weaver's lab examines the role of extracellular matrix remodeling and integrin signaling in cancer biology with active programs in breast cancer, pancreatic cancer, and glioblastoma. Her team was among the first to recognize ECM stiffness as a key regulator of tissue homeostasis and tumor evolution. This, and recent work from her lab demonstrating the importance of cell-intrinsic and microenvironment-mediated biochemical and biophysical cues in tissue development, tissue homeostasis and malignancy have challenged existing paradigms regarding the genetic and biochemical regulation of tissue homeostasis and cancer. Dr. Weaver's work on metastasis is funded in part by a Mark Foundation Endeavor award, for which she is a principal investigator.
Julio Aguirre-Ghiso, PhD was recently named founding director of the Cancer Dormancy and Tumor Microenvironment Institute, director of the Gruss-Lipper Biophotonics Center, and co-leader of the AECC Tumor Microenvironment and Metastasis Program at Albert Einstein Cancer Center. He is also an endowed professor of cell biology at Einstein, and President of the Metastasis Research Society. Over the years, Dr. Aguirre-Ghiso and colleagues facilitated a major paradigm shift in cancer biology by showing that solitary disseminated cancer cells are not perpetually proliferating, as had been previously thought. Their investigations have addressed many important questions regarding the timing of dissemination, process, cellular players, and molecular mechanisms related to disseminated cancer cell dormancy and metastasis. He has demonstrated that crosstalk between cancer cells and the tumor microenvironment regulates the switch between dormancy and proliferation and leveraged this knowledge to identify new biomarkers of dormancy and design novel therapies. Dr. Aguirre-Ghiso is the recipient of an ASPIRE award from The Mark Foundation to explore how the crosstalk between disseminated cancer cells in different evolutionary states control cancer cell dormancy and metastasis initiation.
Mikala Egeblad, PhD, Professor and Cancer Center co-leader, joined Cold Spring Harbor Laboratory in 2009, studying how the tumor microenvironment contributes to therapy resistance and metastasis, with an emphasis on the role of inflammatory cells. Her research focuses on how different types of myeloid cells are recruited to tumors and how their behaviors—for example, their physical interactions with cancer cells and other immune cells—influence cancer progression and metastasis. Recently, the Egeblad lab has showed that when neutrophils are activated during inflammation, they can awaken dormant cancer to cause cancer recurrence. The neutrophils do so by forming so-called neutrophil extracellular traps, structures of extracellular DNA that alter the extracellular matrix to provide a wake-up signal. This work was funded in part by an ASPIRE award from The Mark Foundation to Dr. Egeblad.