Since 2018, The Mark Foundation ASPIRE program has provided more than $48M to fund 118 awards for high-risk, high-reward research that cuts across multiple cancer types and scientific disciplines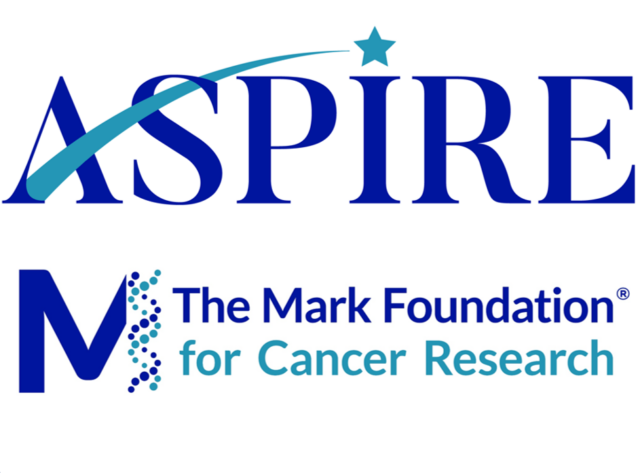 The Mark Foundation for Cancer Research announced 16 outstanding projects in its latest class of ASPIRE awards, granting more than $5 million for research that aims to answer key feasibility and proof-of-concept questions in an accelerated time frame, and scaling for impact based upon initial success. The high-risk nature of these projects, often based on new ideas that have generated limited preliminary data, tends to place them outside the scope of other funding opportunities.
These new awards cover research into multiple types of adult and pediatric cancers, encompassing both solid tumors and blood cancers.  Of note, two of the projects result from a request for proposals following a Mark Foundation scientific workshop on pediatric brain tumors, which convened worldwide experts to dream up novel solutions to the critical problem that brain tumors kill more children than any other cancer.
The Mark Foundation's commitment to interdisciplinary research and global collaboration is also embodied by these new grants, with many different fields of study represented including genetics, chemical biology, artificial intelligence (AI), immuno-oncology, biophysics, and cancer prevention.  For example, two of the projects will apply state-of-the-art technologies in AI and structural biology to study the T-cell receptor, a signaling node that is key for successful cancer immunotherapies.  Another project brings together laboratories from the United Kingdom and Australia working on lung cancer and breast cancer to collaborate on cancer prevention and protection.
"These ASPIRE awards will enable trailblazing approaches to help solve some of the biggest challenges in cancer research today," said Ryan Schoenfeld, CEO, The Mark Foundation.  "I'm excited to see these projects embracing the high-risk / high-reward spirit of the program and covering such a broad range of important scientific questions and different cancer types that represent areas of high unmet need for patients."
Launched in 2018, The Mark Foundation ASPIRE Award program has provided 118 grants totaling over $48 million across 63 different research institutions in 12 countries.
The latest ASPIRE awards are listed below. For more detailed information, project titles link to the corresponding pages on The Mark Foundation website.
David Allman, PhD, and Dan Vogl, MD, MSCE, University of Pennsylvania Perelman School of Medicine
Survival pathways in multiple myeloma
Regina Barzilay, PhD, and Tyler Jacks, PhD, Massachusetts Institute of Technology
AI-driven modeling of T-cell receptors
Madhav Dhodapkar, MBBS, Winship Cancer Institute of Emory University; Richard Flavell, PhD and Noah Palm, PhD, Yale University
Understanding and targeting microbial triggers for myeloma
Courtney Hodges, PhD, and Damian Young, PhD, Baylor College of Medicine; Nathaniel Hathaway, PhD, UNC Eshelman School of Pharmacy
Chemical-induced proximity for control of STAT transcription factor networks
Darrell Irvine, PhD, and Dane Wittrup, PhD, Massachusetts Institute of Technology
Induction of tumor-eradicating systemic immunity via leukocyte-targeted cytokine therapy
Taha Merghoub, PhD, and Jedd Wolchok, MD, PhD, Weill Cornell Medicine
Investigating novel KRAS inhibitors effects on the tumor-immune responses and integration of KRAS inhibition
Jim Olson, MD, PhD, and Surojit Sarkar, PhD, Seattle Children's Research Institute
PD-L1 bispecific & CXCL10 armored CARs for Diffuse Midline Gliomas
Owen Sansom, PhD, Cancer Research UK Scotland Institute; Sabine Tejpar, MD, PhD, KU/UZ Leuven; Ramanuj DasGupta, PhD, Genome Institute of Singapore
Defining the origin, evolution and therapeutic vulnerabilities of metaplastic colorectal cancer
Sriram Venneti, MD, PhD, University of Michigan, Ann Arbor; Michael Taylor, MD, PhD, Baylor College of Medicine; Elaine Mardis, PhD, Nationwide Children's Hospital
Defining pre-cancerous potential of persistent rhombic lip (PeRL) to develop biomarkers for group 3/4 medulloblastoma
Andrea Ventura, MD, PhD, Memorial Sloan Kettering Cancer Center
Defining the Roles Of ecDNAs In Cancer Initiation and Progression
Jun Wang, PhD, and Iannis Aifantis, PhD, NYU Langone Health and its Perlmutter Cancer Center
Antigen Presentation Inhibitors for Cancer Immunotherapy
Thomas Walz, PhD, and Ryan Notti, MD, PhD, Rockefeller University
Structural biochemistry of T-cell receptor activation
Christina Woo, PhD, Harvard University
Discovery of E3 ligase substrate adapters of overlooked forms of protein damage
ASPIRE II awards:
Stephen Jackson, PhD, and Samah Awwad, PhD, University of Cambridge
Dissecting molecular mechanism(s) of ATR-inhibitor and CHK1-inhibitor sensitivity and resistance
Bennie Lemmens, PhD, and Jiri Bartek, MD, PhD, Karolinska Institutet
Redefining cancer drug resistance and replication timing at nucleotide and nanoscale resolution
Charles Swanton, MD, PhD, The Francis Crick Institute and Sherene Loi, MD, PhD, University of Melbourne
Tumor promotion and protection
About The Mark Foundation for Cancer Research
The Mark Foundation for Cancer Research, a charitable organization based in New York City, actively partners with scientists around the world to accelerate research that will transform the prevention, diagnosis, and treatment of cancer.  Since 2017, The Mark Foundation has awarded more than $200 million in grants to over 100 academic institutions across 13 countries, with research programs focusing on early career support, team science collaboration, new technology innovation, and therapeutics discovery.  Additionally, The Mark Foundation maintains a growing portfolio of investments in early-stage cancer diagnostics and therapeutics companies, including several that have transitioned from grantee projects into commercial development.  To learn more please visit www.TheMarkFoundation.org.